Where to go for the best family holidays in Spain

Family holidays in Spain don't have to just mean the Costa del Sol - don't feel limited just because you have kids in tow! There are so many exciting and beautiful destination across Spain, check out our list of exciting destinations that are perfect for a family summer holiday this year...
The best family holiday destinations in Spain
PICOS DE EUROPA
Looking for the perfect Spanish destination for an active family? Head for the Picos de Europa for an adventure holiday in the mountains! The Picos lie on the borders of Cantabria, Asturias and Castilla y Léon and are a protected national park.
Go hiking, mountain biking, rock climbing, caving, kayaking, white water rafting, horse riding... you can even go skiing and snowshoeing higher up where there's permanent snow.
Jump in the cable car at Fuente Dé for some truly incredible views of this majestic landscape as it rises 750m up to an impressive cliff face. Getting to the Picos de Europa is easy - the mountain town of Potes is just over an hour and a half's drive from Santander, which you can sail to from Portsmouth or Plymouth!
The road winds up into the mountains through a dramatic gorge called the Desfiladero de la Hermida.
GALICIA FAMILY HOLIDAYS
Often referred to as 'Ireland with better weather', Galicia is a green and lush region in north western Spain. The Romans thought its westernmost tip, Cape Finisterre, was the end of the world and it is a magical place with its impressive sunsets and beautiful cliffs.
River estuaries are scattered across Galicia's coastline creating stunning beaches - there's over 700 beaches in total in the region.
The Tower of Hercules near A Coruña, Galicia
The landscape inland is no less spectacular with breathtaking river canyons, mountainous areas and virgin forests to explore. Hot springs also feature with more than 300 in some beautiful locations where all the family can enjoy relaxing in the outdoor rock pools.
Don't miss the Aquarium Finisterrae in A Coruña for a great day out and the Roman lighthouse, the Tower of Hercules, which is the oldest working lighthouse in the world.
ASTURIAS FOR FAMILY HOLIDAYS
Welcome to dinosaur territory! Asturias' coastline is known as the 'coast of dinosaurs' due to the huge number of Jurassic fossils found here. If you've a dinosaur fanatic in the family then a trip to the Jurassic Museum of Asturias is an absolute must.
Sunset seascape in Asturias
There are lots of life-size models and skeletons on show inside and outside the museum. The building itself even looks like a giant dinosaur footprint!
You can also go hunt down some footprints for yourself by following the Dinosaur Coast trail, a great day out for all the family.
The beaches of Asturias are as glorious as its neighbours, Cantabria and Galicia so you can enjoy plenty of days out in the sunshine playing by the sea and searching for signs of a Brachiosaurus or a Diplodocus!
CANTABRIA
Fast forward through Spain's history from the dinosaurs to Palaeolithic times and explore the world of prehistoric man in Cantabria. Home to the famous Altamira Cave that contains some of the oldest and best preserved prehistoric art in the world, Cantabria has lots of Palaeolithic caves for the family to explore.
Whilst you cannot go in the actual cave at Altamira due to conservation efforts, the museum contains a complete reconstruction of the cave and its drawings.
The cobbled streets of Santillana del Mar
The region also has a wonderful coastline with pretty seaside villages and medieval towns dotted all around. Wander the cobbled streets of Santillana del Mar or go sunbathing at the beach in Noja. Head towards the Picos de Europa and you'll find the Caberceno Natural Park.
Once an old mining site, today it is a manmade nature reserve and a conservation area. The site is home to lots of endangered species and the animals live in almost total freedom.
BASQUE COUNTRY HOLIDAYS (PAIS VASCO)
The Basque Country of Spain is perfect for families - there are so many great cities to explore. Bilbao is a fantastic destination to explore and don't miss the huge spider sculpture, Maman, and the giant Puppy made of flowers outside the dazzling Guggenheim art museum.
The city is built on the river so there's lots of bridges to cross as you stroll around the city and a pretty Old Town. Head to the coast just northeast of the city at Bermeo to find a whaling ship that is a Whaling Interpretation Centre and discover what it was like to be at sea in the 17th century.
Playa de Zurriola at San Sebastian
Further east along the coast is the vibrant destination of San Sebastian. Famed for its semi-circular bay and the long stretch of sandy beach that lines it, San Sebastian is a great base for a family holiday.
An aquarium where you'll find Nemo and his friends, theme parks, outdoor parks with lots for kids to do, cycle paths to get away and even boat trips out to the island - there's so much to see and do to entertain kids in this beautiful city. There are also beautiful family-friendly beaches so be sure to spend some time relaxing on the stunning beaches too.
Segovia, Avila and Castilla & Léon
Step into a fairy tale in Castilla y Léon where architecture goes epic. Located in the south of the region, the cities of Segovia and Avila are home to some oversized architecture. The aqueduct of Segovia was built by the Romans and still crosses the city from one side to the other.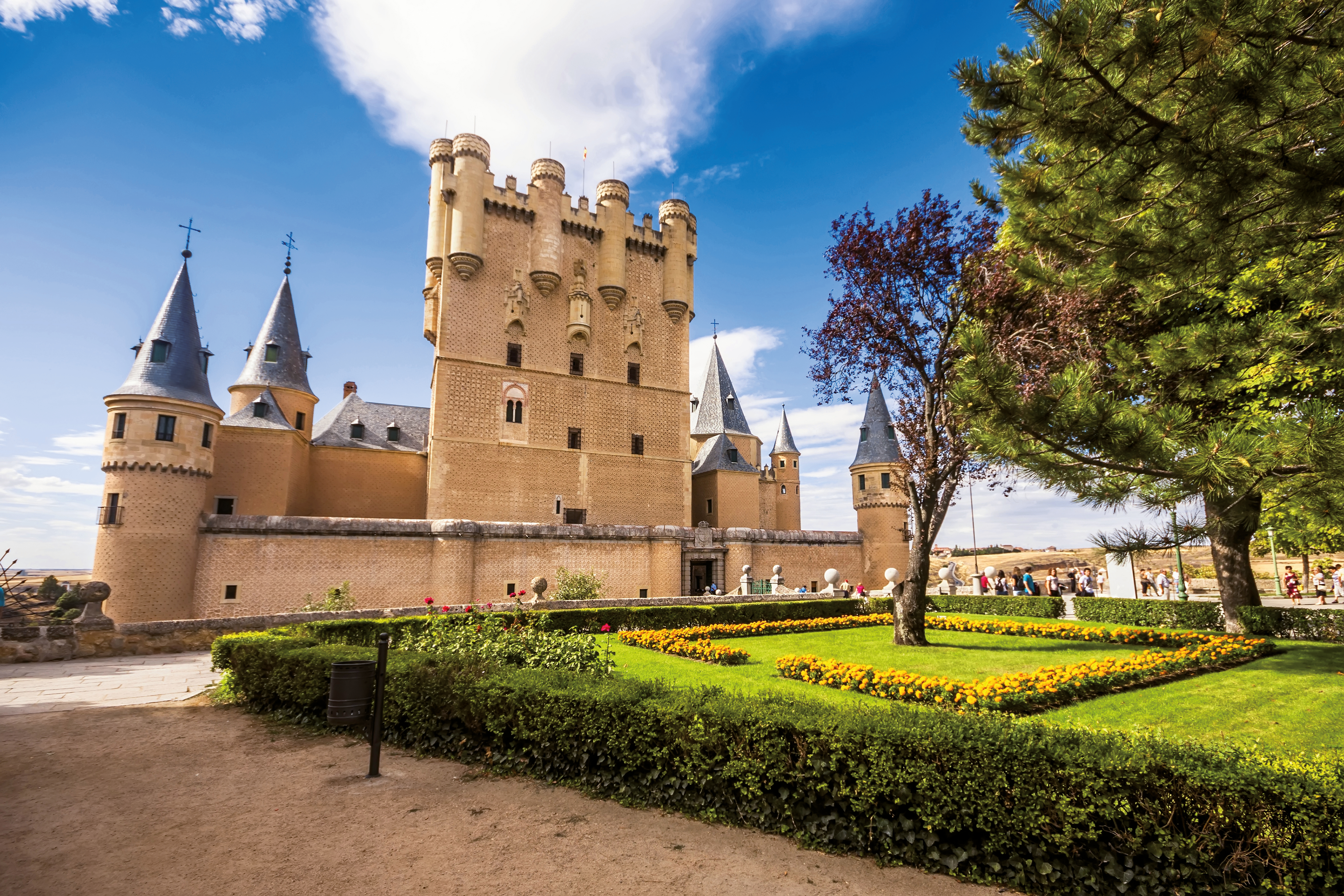 Standing high on a rocky crag, the Alcazar is a royal fortress that served as an inspiration for Disney's Cinderella's castle and it's easy to see the resemblances.
Slightly further west, the walled medieval town of Avila is an imposing sight. The magnificent walls are still completely intact and you can walk along the battlements for a large portion of them.
They are bound to spark little ones' imaginations as they look down from the turrets and gates to see imaginary foes below! Both Segovia and Avila are under four hours drive from Santander.
Costa Brava, Barcelona, Costa Dorada & Catalonia for family holidays
Enjoy family-friendly beaches perfect for you and your kids! If you want a beach holiday then look no further. The Costa Brava has some of the finest Blue Flag beaches in Europe and is moving away from the mass tourism of its past to take back some of its traditional character.
With rugged coves, pretty beaches, wooded hillsides and beautiful destinations like Tossa de Mar, with its enigmatic castle by the sea, it's a great destination for a family holiday. To the south of Barcelona, the Costa Dorada also has lots of sandy beaches that live up to its name of the Golden Coast.
Gaudi's Park Güell in Barcelona
If you visit the area, you should at least do a day trip to Barcelona to see the incredible Sagrada Familia and the Park Guëll - children will love the eclectic, playful and colourful style of Gaudi's buildings. There is also a zoo, an aquarium and even a museum of chocolate! The modern CosmoCaixa is the biggest science museum in Europe and is a fascinating visit for all the family with lots of interactive exhibits and experiments.
NAVARRA
For a landscape that's truly epic, head for Navarra. The desert of the Bardenas Reales is a bit like landing on a different planet. Or if you prefer a vista that's a bit more green, head south to idyllic meadows, old oak forests and some truly stunning river gorges at Arbaiun and Lumbier.
In the north are some spectacular cave systems and some, like at Menduliko and Urdazubi/Urdax, are open to the public. Go in search of witches at Zagurramurdi.
The witches' cave at Zugarramurdi in Navarre
The region is also famous for its palaces, built by the past kings of Navarra. The riches of this kingdom are on display at the sumptuous Royal Palace at Olite and the magnificent Palace of the Kings of Navarre in Estella. It is well worth a day trip out to wander around these spectacular medieval buildings.
In mid-August, Olite even holds a medieval fair so you can see just what it would have looked like in years gone by with costumed street performers and a medieval market.
With so many amazing destinations for a family holiday this summer Spain has to be the perfect choice! With Brittany Ferries you can travel safely and with confidence to Spain from either Portsmouth or Plymouth.
Feel inspired? Holiday with confidence with Brittany Ferries. Our 2021 selection of ferry-inclusive package holidays come with free Covid-19 cover and free amendments too.